CASE STUDIES

King edward Court, Hyde

Bardsley construction contracted LJ Roofing Contractors Ltd to fit roofing on 16 new-build houses and an apartment block.

Longridge Estate, Knutsford, Cheshire

Great Places Housing Association contracted LJ Roofing Contractors LTD to re-roof 40 houses on the first phase of the development project.

September - November 2017

The work has been completed to a very high standard which included the installation of Solar panels, all work completed in just 12 weeks.

Murrays Mill, City Centre Manchester

Murrays' Mill is the transformation of the Grade II and II* listed buildings into 123 design-led one-, two- and three-bedroom apartments and one townhouse, all set around a courtyard garden.

LJ Roofing Contractors have been contracted to supply and install new welsh Penrhyn slate roof coverings to the existing roofs at the Murrays Mill site in City Centre Manchester.

Working closely with the client's consultant, architect, main contractor & Welsh Slate we are currently on course to deliver on this bespoke project which involves traditional slating, sheet lead works and cast iron rainwater goods. We have also carried out extensive joinery works to the roof structures, building new inset terraced dormers, plant dormers and an array of details, all bespoke to suit the nature of the restoration project.

Our apprentices and tradesmen alike have benefited from the attention to fine detail on such a large scale which they will now be able to apply to all future projects.

Farmhouse Inn, Dearne Valley, Barnsley

Client - Medlock FRB

Project duration - June 2016 - August 2016

Clay tile roof installation. Built up felt roofing to new build property

Renovation of The Old Woods Hospital, Glossop

Client - Reuben's Retreat Registered Charity

Project surveyor - LC Building Consultants

Project duration - May 2016 - September 2016

Traditional slating and Tiling.
Traditional sheets lead works.
Built-up felt roofing.

Oldham Town Hall Restoration

Client - Morgan Sindall plc / Oldham Borough council

Project duration - Main contract works June 2015 - December 2015

Traditional random slating
Traditional sheet lead works

Wigan Town Hall Restoration

Client - ISG plc / Wigan Council

Project duration - Main contract works October 2014 - April 2015

Traditional random Westmorland green slating/traditional sized slate
Traditional sheet lead works
Liquid plastics flat roof works
CASE STUDIES
King edward Court, Hyde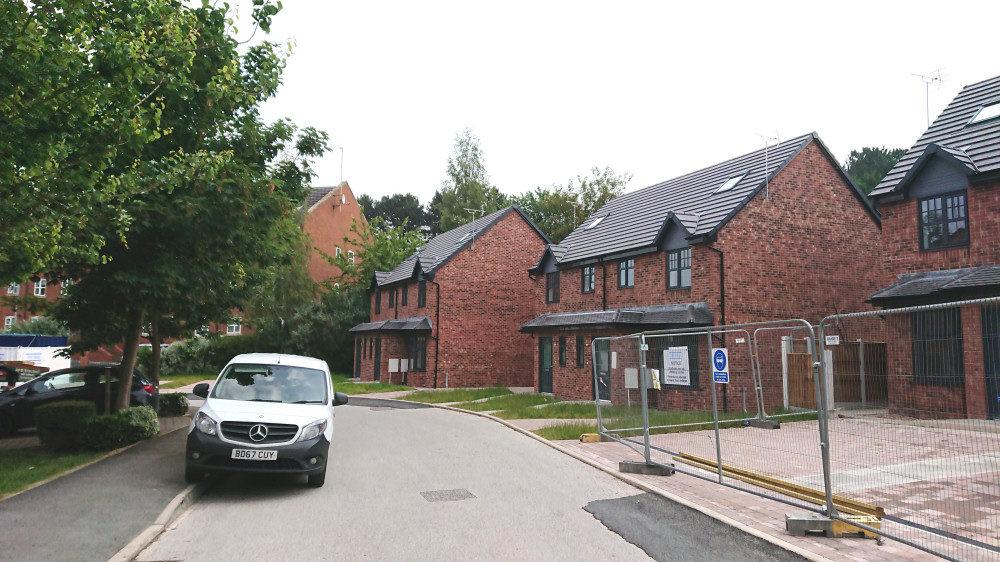 Bardsley construction contracted LJ Roofing Contractors Ltd to fit roofing on 16 new-build houses and an apartment block.
Longridge Estate, Knutsford, Cheshire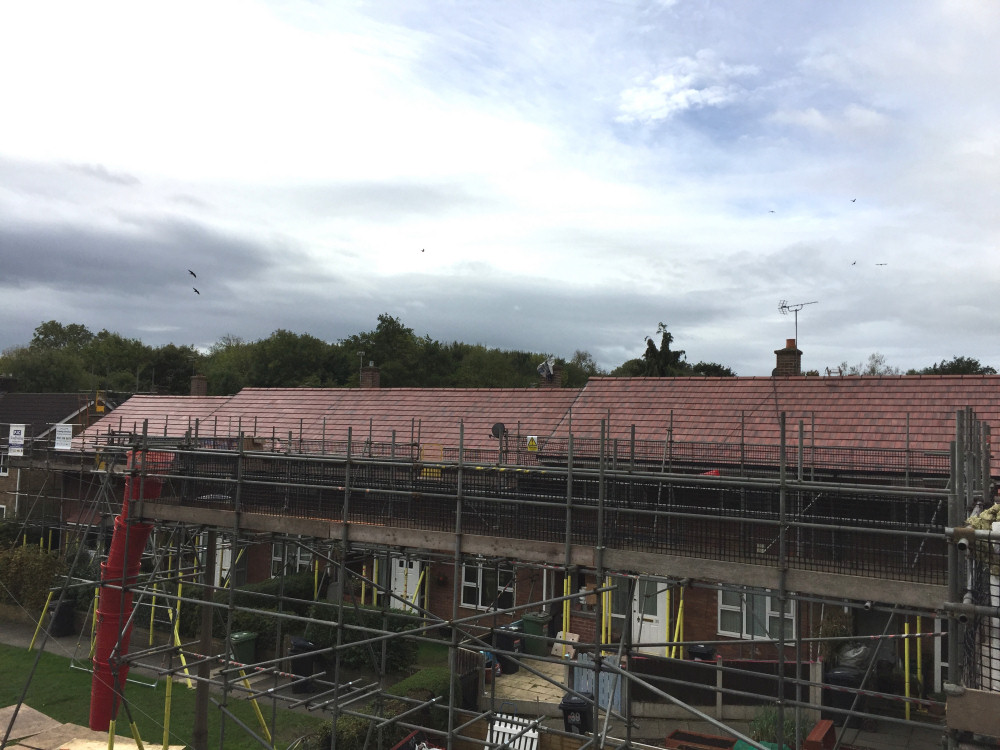 Great Places Housing Association contracted LJ Roofing Contractors LTD to re-roof 40 houses on the first phase of the development project.
September - November 2017
The work has been completed to a very high standard which included the installation of Solar panels, all work completed in just 12 weeks.
Murrays Mill, City Centre Manchester
Murrays' Mill is the transformation of the Grade II and II* listed buildings into 123 design-led one-, two- and three-bedroom apartments and one townhouse, all set around a courtyard garden.
LJ Roofing Contractors have been contracted to supply and install new welsh Penrhyn slate roof coverings to the existing roofs at the Murrays Mill site in City Centre Manchester.
Working closely with the client's consultant, architect, main contractor & Welsh Slate we are currently on course to deliver on this bespoke project which involves traditional slating, sheet lead works and cast iron rainwater goods. We have also carried out extensive joinery works to the roof structures, building new inset terraced dormers, plant dormers and an array of details, all bespoke to suit the nature of the restoration project.
Our apprentices and tradesmen alike have benefited from the attention to fine detail on such a large scale which they will now be able to apply to all future projects.
Farmhouse Inn, Dearne Valley, Barnsley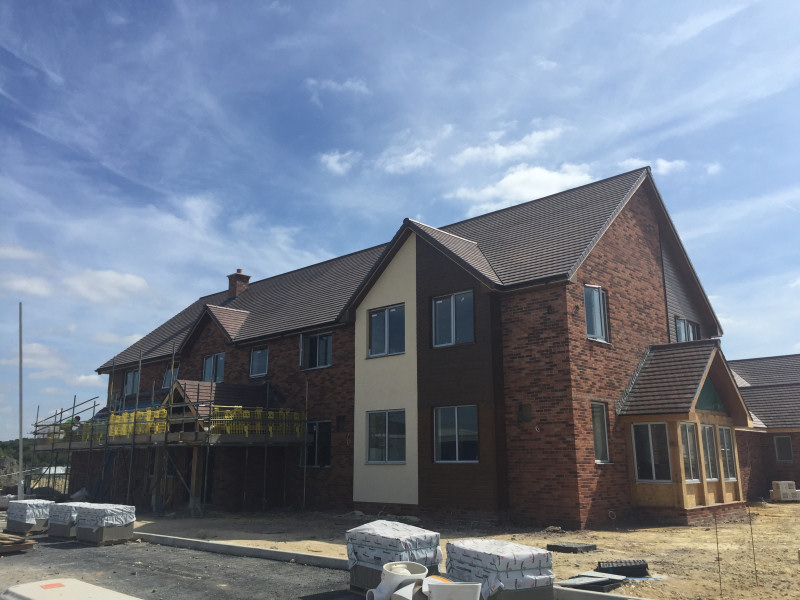 Client - Medlock FRB

Project duration - June 2016 - August 2016
Clay tile roof installation. Built up felt roofing to new build property
Renovation of The Old Woods Hospital, Glossop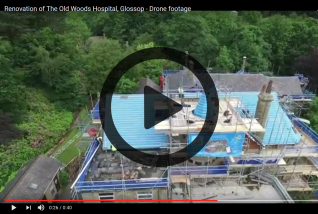 Client - Reuben's Retreat Registered Charity

Project surveyor - LC Building Consultants

Project duration - May 2016 - September 2016
Traditional slating and Tiling.
Traditional sheets lead works.
Built-up felt roofing.
Oldham Town Hall Restoration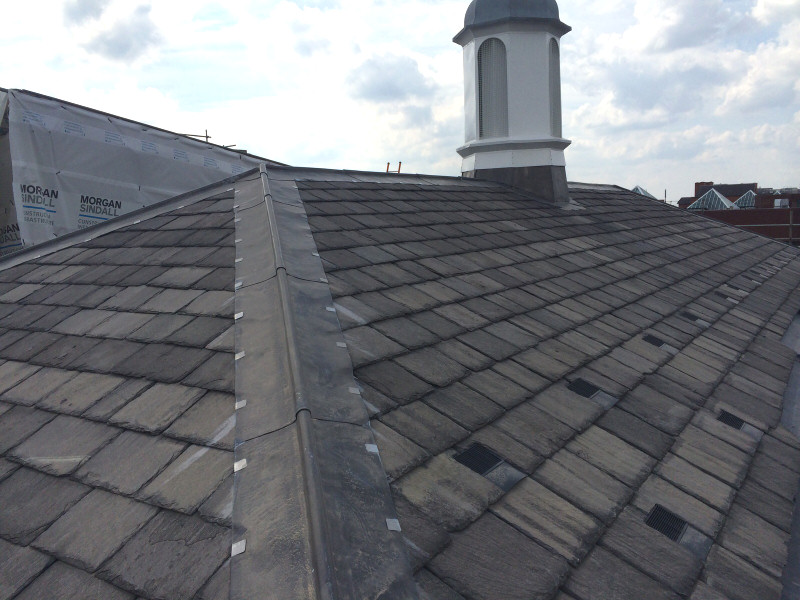 Client - Morgan Sindall plc / Oldham Borough council

Project duration - Main contract works June 2015 - December 2015
Traditional random slating
Traditional sheet lead works
Wigan Town Hall Restoration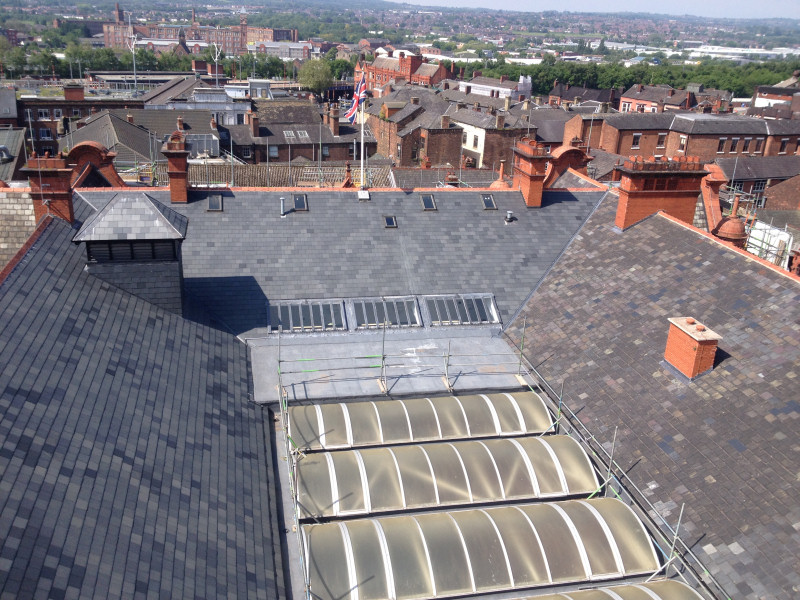 Client - ISG plc / Wigan Council

Project duration - Main contract works October 2014 - April 2015
Traditional random Westmorland green slating/traditional sized slate
Traditional sheet lead works
Liquid plastics flat roof works