TESTIMONIALS
Complete Slate Re-Roof - Marple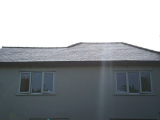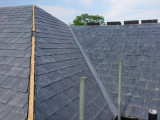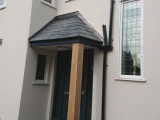 "We have recently had our entire roof replaced by LJ Roofing. I wanted to write a heartfelt review for anyone in two mind's about using this company and would be happy to speak to anyone personally to confirm my satisfaction. My husband and I spent months researching different roofing contractors as we knew that the roof of our detached property was going to be a huge undertaking. I spoke to and received quotes eventually from 6 different local companies and LJ Roofing by far outshone all of them. The price was competitive but it was the other elements that they brought to the table that won them the business.

Their quote was very precise and detailed and yet easy to understand. The dedication to health and safety is unsurpassed. But it was the sheer fact that Lee spent a long time getting to know us with our very specific requirements. Like most people we wanted the work performed quickly and to a high standard. I was dreading it taking weeks and weeks. But because Lee is so organised, he had everything on schedule to the day. We were difficult customers to say the least. We changed our mind on the slates so many times and Lee was extremely patient with us and always returned calls and emails diligently.

When his staff began work they were the most polite and tidy workers I have ever had to use. They were here very early every morning and worked through until 4.30 each day. Lee was here with them many mornings checking and double checking the details and overseeing that everything was done thoroughly and to a high standard. They finished within the exact time constraints and now when I look at the driveway and area surrounding our house, you literally cannot even tell they have been here. Having seen one of his competitors begin work around the corner with tiles smashing all over the drive missing the skip and one nearly hitting my son as he went by on his scooter, I am so relieved I never used them. LJ Roofing are sticklers for health and safety, are utterly professional, the quality and decency of their staff and workmanship shines through - as our roof now looks amazing. I was really keen to write this review to support anyone who is making up their minds about who to use for this kind of work. It's a genuine pleasure dealing with Lee and his company."


Thanks again, Victoria
Roof Repair - Tintwistle
"We just wanted to say what a breath of fresh air it has been in dealing with L J Roofing. We have been so impressed with the professionalism shown and the efficient processes you follow particularly:
The speed with which you inspect the work required,
The sound professional advice given on what work is needed
The quality of the quote supplied.
The way the work is planned and executed,
The way you kept us informed throughout and
How you sent an inspector to check standards once the work had been completed.
We just wished others operated in the same way. It takes all the stress away. Thank you."
Best wishes,
Heather
Tongmoor
Re-Roof - West Hill School
"LJ Roofing provided an extremely professional service at all levels with recent projects they have undertaken for us, including working to very specific time frames.

We would have no hesitation in recommending LJ Roofing."
West Hill School.
Roof Repair
"L J Roofing were very professional and worked hard to replace the whole roof and repair a flat roof at a bad time of year with difficult weather conditions. All the staff involved were helpful and friendly and tried to limit the disruption. At all levels they took pride in doing a quality job."
Thanks again,
Barrie Taylor
Stalybridge
"I would like to thank you for a job well done, your employees are a credit to your company with their professionalism whilst carrying out the work required. I will not hestitate to recommend you and your business to friends and family.

ONCE AGAIN MANY THANKS, VERY GOOD SERVICE "
Regards,
R.W.Farrow
"A job well done. As much as having your house re-roofed could be regarded as a pleasure, this was. The lads who did the work were first class, especially John & Steve who were professionals and craftsmen. The work was completed speedily and with the minimum of disruption and mess, and everyone who was involved was friendly and courteous.

We were particularly impressed by the fact that we always knew what was happening. The lads gave us an update on each day's progress and what was planned for the following day, and Lee was in regular contact. As a result, where there was a delay caused by the weather, we were kept informed.

The result is a new roof that is in keeping with the character of our property, and in which we have absolute confidence."
Regards,
Silla & John Spence
Re-Roof – residential property
Complete removal of the pitched roof completely replacing all tiles
"I chose LJ Roofing as I was impressed by the knowledgeable, professional approach and competitive pricing.
Throughout the project I found Lee and his collegues to be honest reliable professionals who were most attentive to my wishes.
I was so satisfied with the high quality and finished roof that I have recommended LJ Roofing to many on our avenue."
Mr W. Hitchcock
Cheadle Hulme
"Hi Lee

We both wanted to thank you and your team for a fantastic job in re roofing our property. As a Grade 2 listed building we have to be veru conscious of the quality of any work carried out and what you have done is in keeping with the authenticity and apperance of the property.

Throughout all the work we had great proactive communication on what was happening and when. The professionalism of your team was fantastic be it the scaffolders or roofers and all were a credit to you.

Many thanks and would willingly recommend you to anyone looking to have work done."
Jim and Jenny Cahill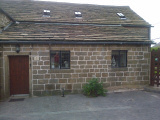 "LJ Roofing recently carried out a complete overhaul of the church roof, retaining as much of the origional stone as possible and replacing any broken stone slates. They also installed a steel beam to strengthen the roof due to a broken truss.

Lee worked in conjunction with a Structural Engineer/Surveyor and the High Peak Conservation Officer, and helped us in our successful bid to get a Historic Building Grant.

Lee and his team of employees are trained craftsmen, all totally trustworthy and hard working. Lee consulted with us at every stage of the project, giving us very sound advice and was very helpful - no job was too small. There were no hidden costs involved, the work came in on budget and was finished on time.

Everybody at church was very impressed with the workmanship and high quality finish of all the work. We would highly recommend LJ Roofing."
Sue Clayton. (Treasurer)
Tintwistle & Glossop United Reformed Church.
Old Road, Tintwistle.
"Courteous, reliable and a good communicator, gave full explanation for work required and kept us informed of start dates when constant rain stopped work. The whole team were very professional and quick. Lee found the cause of a problem no-one else had solved and put it right so rainwater now drains properly.

Highly recommended."
"Trader is friendly, professional and reliable."
"Very professionally undertaken project without any fuss or complaints. Expertly carried out beyond my expectations."
"I found that Lee and his team were very professional, courteous and obliging. The work he carried out is excellent. The service while the work was carried out was splendid. I will be strongly recommending Lee and his team wholeheartedly to my personal clients and family for a trouble-free professional experience."
"Excellent service, fair price, good job - highly recommended."
"I had a leak in my gutter fixed by another company but it still leaked. I found L J Roofing on your website. I would recommend them to anybody. They were helpful and did the job properly and at a fair price."
"Called on Tuesday for Quotation, rained all day Wednesday, job done Thursday, polite and efficient.

Would recommend"
"Great work, good price and nice people."
"Very honest, reliable, hard working team. Recommended them to family and friends"